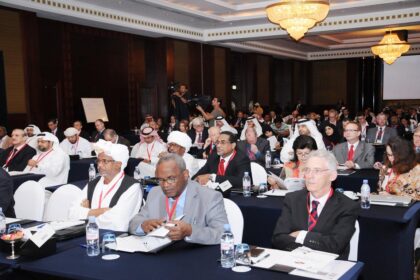 The new role of universities in promoting innovation and supporting the growth and development of today's knowledge based society will be the central theme of the second MENA Higher Education Leadership Forum taking place in Abu Dhabi from 9-11November.
Higher education leaders and decision makers from 50 countries across the region and worldwide will assemble at the Dusit Thani Abu-Dhabi for the event which is being held under the patronage of H.E. Sheikh Nahyan bin Mubarak Al Nahyan, Minister of Culture, Youth, and Community.
The forum, organized under the theme: "Towards Transformative Higher Education in the MENA Region: The Role of Innovation in the 21st Century Digital and Knowledge based Society", will turn the spotlight on the latest innovation trends and how these are impacting higher education, while analyzing the part to be played by technology in shaping the future of higher education.
An intensive three-day program was announced today by the Dubai-based Center for Learning Innovations and Customized Knowledge Solutions (CLICKS), which is organizing the forum in partnership with the Association of Arab Universities, the International Council for Open and Distance Education and the Leadership Higher Education Foundation. The program will features a number of keynote addresses by an international speakers, interactive panel discussions, debates and presentations of best practices in addition to pre-forum workshops.
"One of our key objectives is to discuss how higher education contributes to today's knowledge based economy and how university-based innovation and entrepreneurship is nurtured in an era driven by creativity and innovation," said Dr. Narimane Hadj-Hamou, CEO of CLICKS who launched the Forum in 2013. She added, this year's main forum focus is an appropriate and well-timed one in the UAE, with the first Innovation Week being held in Dubai from 22-28 November as part of the National Innovation Strategy launched last year by H.H.Sheikh Mohammed Bin Rashid Al Maktoum, Vice President and Prime Minister of the UAE and Ruler of Dubai.
An audience of HE leaders and decision makers will include Ministries of Higher Education and regulatory body representatives, Rectors, Chancellors, Presidents, Vice Chancellors, Provosts, Pro-Vice Chancellors and Deans; who will be involved in giving their views, sharing their ideas and expertise and engage in various debates and discussion. More details of the event and a full list of keynote speakers and panelists can be found on the Forum's official website at www.menahelf.com
Full access to media coverage can be found at: http://menahelf.com/?wpdmdl=7561