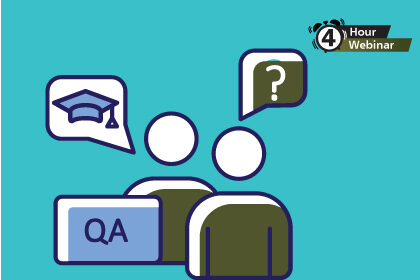 Date: 27th December, 2020
Time: 07:00 AM – 11:00 AM GMT TIME | 11:00 AM – 15:00 PM UAE TIME
4 Hours Webinar
Webinar Fee : 99 USD
Overview
Academic advisors play a critical role in maximizing the student learning experience as well as supporting and engaging them.
Students rely on advisors for academic information, assistance in navigating in the university, locating and understanding policies and procedures, and problem-solving and decision-making (Smith & Allen, 2014).
Well-designed academic advising services also, support students' intellectual growth, empowers students to clarify and attain their diverse academic, personal & professional goals, fosters student retention and promotes student success.
While students studying on campus may find it sometimes challenging to locate offices and engage with their academic advisors beyond obtaining course approvals; online students may struggle even more and have a feeling of being lost, as they do not have the opportunity to develop the contextual framework associated with buildings, faces, and in-person referrals. Moreover, the culture and expectations of online students may differ from those of campus-based student.
It is important that academic advisors adopt a proactive approach and take into consideration the unique needs and limitations that online students may have. Advisors are encouraged to offer students a variety of options regarding how students can receive advising, making sure to understand the needs and preferences of each individual student. Regardless of the method of delivery, each advising session should make the student feel cared for, understood, and valued.
Moreover, both institutions and advisors should come together to regularly monitor the quality of academic advising and the impact it is having on the student learning experience.
This webinar aims at identifying the broad range of understanding, knowledge, and skills that support academic advising in online environments. It will acquaint participants with different strategies, tools and techniques to enhance their advising practices and consider how technology may be exploited to offer a better and more personalized advising experience.
Objectives
By the end of the webinar participants should be able to:
Comprehend various advising philosophies, approaches & models and determine the more suitable ones

Understand the difference between advising students in an online environment & advising them in person

Consider the NACADA Academic Advising Core Competencies Model within their advising practices

Integrate the use of various technologies to deliver academic advising services

Appreciate what it takes to build a proactive and engaging relationship with their e-Advisees

Use various principles and tools for assessing online academic advising
Key Topics
Advising philosophies, approaches and models

Advising students in Online Learning: Contextual considerations

Understanding the advisor and advisee roles & relationship

Essential components of a successful academic advising program


Challenges in Online Academic Advising

Cultivating collaboration between advisors, faculty and students

Personalizing your academic advising

Skills and competencies for effective online academic advising

Academic advising policies and resources

Using technology to improve academic advising

Evaluating Academic Advising

Target Audience
Anyone involved in delivering or overseeing online learning including:
Academic Advisors
Directors & Staff working in Student Services Units including Career Advising, Counseling, Tutoring Centers, etc.
Heads of Academic Departments and Program Directors responsible for overseeing academic advising
Webinar Facilitator
Mr. Mokhtar Benhadria, Malaysia
Mr Mokhtar Benhadria, Malaysia is the Head of Quality Assurance Division at International Centre for Education in Islamic Finance (INCEIF), Kuala Lumpur