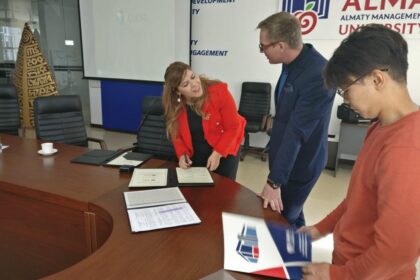 CLICKS is pleased to have signed today in Almaty, Kazakhstan a Memorandum of Understanding with Almaty Management University to support the University with its current and future strategic priorities through offering a range of consultancy services and training programs in the areas of Governance, Strategic Planning, Quality Assurance and Teaching & Learning.
Almaty Management University originally founded as Alma-Ata School of Managers in 1988 is one of the oldest private university in the country and the first business university of the Republic of Kazakhstan which offers specialized bachelor, masters and DBA programs through its various four Schools: Graduate School of Business, Graduate School of Public Policy and Law, Graduate School of Management, School of Engineering Management, and Faculty of Basic Preparation and Hospitality Center.
The MoU was signed by Prof. Christian Kahl, Vice Rector of Research and International Development from Almaty Management University and Dr. Narimane Hadj-Hamou, CEO from CLICKS on the 18th of September, 2018.