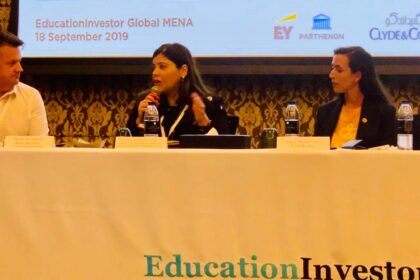 Founder and CEO, Dr. Narimane Hadj-Hamou participated in a Panel Discussion titled "Emerging trends and opportunities in MENA" at the Education Investor Global MENA Conference which took place today at the Address Dubai Marina.
The Panel focused on the global trends that have most applicability to the region, in particular those related to the emergence of new forms of learning such as online and blended learning, mico-credentials, etc .and how these may contribute to addressing the skills gap and employability in a culture where certification still dominates. It also addressed the sort of concerns investors may have when considering investment in these new approaches
The event which brought together a range of speakers and presenters concerned with the K-12 and Higher Education Sectors from among education investors, business leaders and experts in the field discussed the education landscape and explored opportunities and challenges facing the MENA education sector. Latest market trends and strategic advises were provided throughout the day.