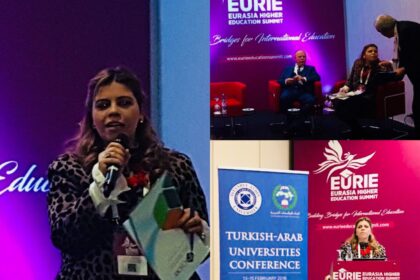 The Center for Learning Innovations and Customized Knowledge Solutions (CLICKS) represented through its Founder and CEO, Dr Narimane Hadj-Hamou participated in the 3rd TURKISH-ARAB UNIVERSITIES CONFERENCE which took place at Istanbul Ayidin University from the 13-15 February 2018 in Istanbul, Turkey. This year's conference also coincided with the EURIE 2018 (Eurasia Higher Education Summit 2018) which is one of the region's largest platform bringing together higher education institutions, educational service providers and academics from across the globe who are seeking cooperation with the Eurasian Region.
During the conference several interventions were made include those of HE , Minister of Higher Education in Malaysia and Prof. Feridun Hamdullahpur, President and Vice-Chancellor, University of Waterloo; in addition to a large exhibition which runs as part of the Summit's activities gathering  universities from over 30 countries including the UK, Italy, Malaysia, KSA, and Iran among others was set.
Dr. Narimane Hadj-Hamou, CEO of the Center for Learning Innovations and Customized Knowledge Solutions (CLICKS) shared in her intervention during the Conference insights about the work and achievements of the Center and presented an overview of the Center's Excellence Model, Governance Toolkit and Teaching and Learning Framework developed by CLICKS.
In addition a number of one-to-one meetings with several University Presidents took place with the aim of exploring possible future collaboration between the Center and the different Arab and Turkish Universities.