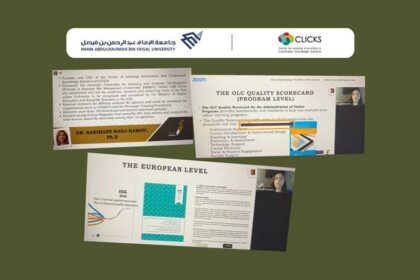 CLICKS's CEO Dr. Narimane Hadj-Hamou has participated yesterday at the inaugural chat and talk series organized by the Deanship of Quality at Imam Abdulrahman Bin Faisal University in the Kingdom of Saudi Arabia. The Panel titled "The Effect of Teaching via eLearning on the Quality of Academic Programs and their Outcomes"
In her intervention, Dr. Hadj-Hamou has addressed four key areas including the challenges and opportunities online learning presents post COVID-19, the sort of system level and institutional requirements to embrace online learning, the need for new pedagogy and faculty upskilling and how to assess the quality of online learning at a Macro, Micro and Miso level. She has presented different existing framework across different parts of the globe.
Along on the Panel were also other distinguished speakers including Dr. Haifa Reda Jamalallail President of Effat University in Saudi Arabia; Dr. Nasser Sarhan, Head of Curricula Department at King Faisal Air Academy in KSA and Prof.Mohamed Loutfi, Vice Chancellor's Special Envoy at Conventry University in the UK.
The Panel was attended by an international audience comprising leaders, faculty and staff working in higher education.