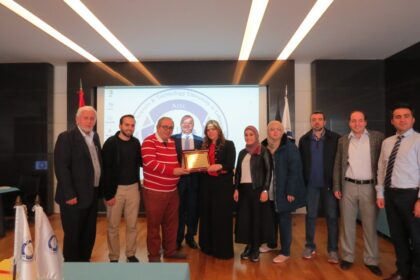 Beirut| 23rd of March, 2017
AUL – Arts, Science and Technology University in Lebanon and the Dubai-based Center for Learning Innovations and Customized Knowledge Solutions (CLICKS) organized a two day visit on the 23rd to the 24th of March, 2017 at the university main campus in Beirut to explore various opportunities for collaboration between the two parties.
Since its establishment, the main purpose of ARTS, SCIENCES & TECHNOLOGY UNIVERSITY IN LEBANON (AUL) is seeking continuous improvement and establishing educational objectives aligned with these purposes through explicit activities directed at improving the quality of the institution and its professional programs, and carrying them out successfully.
In this context and based on its strategic priorities, AUL invited CLICKS's Founder and CEO Dr. Narimanne Hadj-Hamou to discuss various areas of joint interest.
Dr. Hadj-Hamou was welcomed by the Chairman of the Board of Trustees, Dr. Mustapha Hamzeh, the University President, Dr. Adnan Hamzeh and the Dean of the Faculty of Sciences & Fine Arts, Dr. Ali Hamié. Both parties had the opportunity to provide a brief about their respective institutions and to discuss a range of areas for future collaboration in aspects related to governance, quality assurance and capacity building.
During her two day visit, CLICKS's CEO met with all stakeholders at AUL in order to gain a deeper understanding about the institution, in addition to discussing tangible future plans and opportunities in which the Center would support the university in its journey towards promoting quality and excellence.
Looking forward to a fruitful collaboration between AUL and CLICKS.