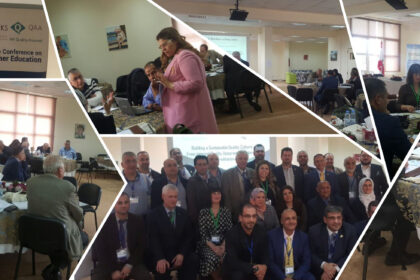 The Center for Learning Innovations and Customized Knowledge Solutions (CLICKS) has recently announced it will be offering in collaboration with the Quality Assurance Agency (QAA) in the UK two upcoming workshops titled "Building a Sustainable Quality Culture: From Internal QA to External Accreditation" as part of a series of programs planned across different Arab countries. The first joint workshop between CLICKS and the QAA was organized last year in Beirut, Lebanon. These workshops are part of the scope of the agreement signed between CLICKS and the QAA in April, 2018 to promote the quality movement in the region and contribute to the capacity building agenda.
The first of the two workshops will take place in University of Sadat City in Cairo, Egypt on March 4th & 5th, 2019 and the second will take place Muscat at the Levatio Hotel on April 29th &30th, 2019.
The two workshops aim at raising participants' awareness on how to develop and sustain a quality culture, move from a culture of compliance to one of enhancement and how to establish integrated internal quality assurance systems that are aligned with institutions' specific culture and capabilities and which support the requirements and needs of national accreditation agencies while enabling also the attainment of international accreditation. Quality assurance of academic programs will be one of the areas of emphasis during the program along considering ways for assuring the quality of support services, governance and even the quality system itself. Most of the second day of the program will place specific emphasis on the QAA accreditation standards and process for accrediting institutions outside of the UK where ESG standards will also be discussed
The workshop is open to participants working in the field of quality assurance from within the higher education sector across the GCC. Participants will have the opportunity to engage in many reflective and 'hands-on' activities and learn from each other.
For further information about the program and registration www.cli-cks.com