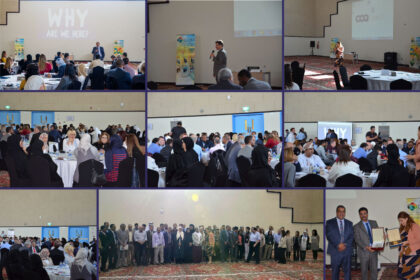 The Center for Learning Innovations and Customized Knowledge Solutions (CLICKS) has been engaged by the Community Colleges of Qatar to run a one day program on addressing CCQ challenges and planning for its future.
The program which was held on August 21st, 2016 at the CCQ Lusail Female Campus in Qatar aimed at supporting the College in its endeavor of developing and nurturing a healthy, motivated and well -informed community of faculty and staff where efficiency, transparency, trust and openness is promoted among all.
The program was designed to not only keep CCQ Community members well- informed of the college's strategic directions and ensure that individuals and departments are able of setting SMART goals that are aligned with the college strategic goals but also to tackle and touch upon key topics that contribute to the development of healthy environment and a productive taskforce that is both efficient and effective. Aspects related to team work, leadership, accountability, ethics, resolution of conflicts and the setting up of SMART goals were all discussed throughout the day.
The program engaged more than 230 faculty and staff members representing academicians, academic support staff and administrators from across the institution and was led by Professor Mohamed Zairi and facilitated by Dr. Narimane Hadj- Hamou and engaged participants with a number of activities throughout the day, in addition to lectures and case studies presented.