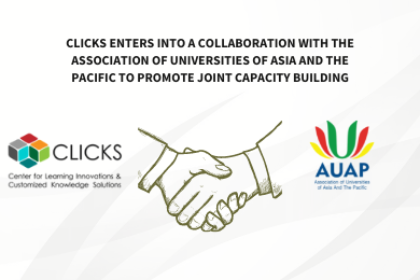 As part of its agenda to expand into new geographies and support capacity building in Higher Education across its various areas of expertise, the Center for Learning Innovations and Customized Knowledge Solutions(CLICKS) has signed a Memorandum of Understanding with the Association of Universities of Asia and the Pacific, (AUAP). As part of the MoU, the two parties will mutually collaborate to promote capacity building for the Higher Education sector in areas of mutual interest and primarily related to quality assurance, leadership development, research and governance. This will include organizing joint conferences, workshops, training programs and seminars, promoting the transfer of 'good practices' between different institutions and countries.
AUAP is a non-governmental organization (NGO) association of university chief executives from higher education institutions representing Asia Pacific that was founded and established in Thailand, on 28 July 1995 to serve as the voice of the universities in the Asia and Pacific region on matters that affect them. Its primary purpose is to be the main platform for interaction and collaboration between members. www.auap.sut.ac.th
The MoU was signed by Peter P. Laurel, President of the Association of Universities of Asia and the Pacific (AUAP) and Dr. Narimane Hadj-Hamou, Founder and CEO of CLICKS.