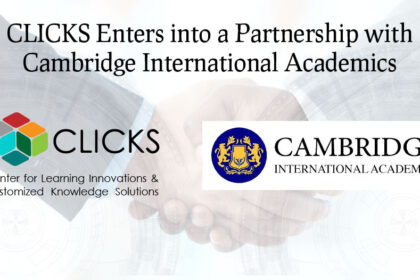 In line with its vision and mission statement to support the advancement of the Higher Education Sector across the Arab region and beyond  through the provision of capacity building opportunities in its five core areas: Leadership development and governance; strategy development; innovative learning and teaching; quality assurance and accreditation and research and as part of its ongoing efforts to align with well-established international partners that share a common vision and passion about the sector; the Center for Learning Innovations and Customized Knowledge Solutions (CLICKS) is pleased to announce it has just entered into an official partnership with Cambridge International Academics based in the UK. The partnership which will support the Center's activities in the area of research capability building will involve planning, maturing and developing relevant projects in Higher Education sustainability in the region of Middle East and North Africa through empowering capabilities.
The partnership agreement follows these essential indicators to disseminate the research and development provisions in academic authorities in MENA and will consider the following four areas:
Research Program in Higher Education and Research methodologies, future studies, governance, leadership, management and related fields.
Publishing (online and printed) papers, books, academic journals and other disseminative documents.
Education and learning joint activities in Interdisciplinary Sciences and related fields
Accrediting, standardizing, validating, scoring and leveling the research materials and courses and other related fields in the basis of bilateral confirmed and certified levels.
In this context Dr. Shapoor Zarei ; CEO of Cambridge International Academics said "Collaboration with highly reputed organizations and communities plays a key role strategic term in the vision of Cambridge International Academics and we can not imagine the influence of sustainability in higher educational research and development without engaging with our trusted partners. Believing this strategy, We are honored to find CLICKS as an esteemed organization in Middle East to making an effective partnership and promoting the joint aims and targets in this strategic region. Middle East is looking more widely to disseminate the research promotions and it brings opportunities to sustaining the pragmatic stages."
In the other hand Dr. Narimane Hadj-Hamou, CEO of the Center for Learning Innovations and Customized Knowledge Solutions –CLICKS shared "We are delighted about this new venture and have already started looking into upcoming  joint activities. We look forward to growing this relationship to support the advancement of research in our region"