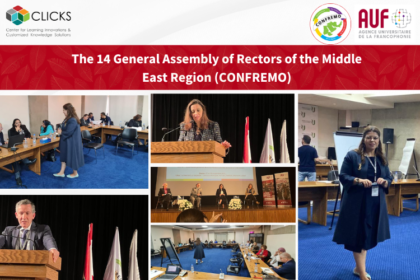 As part of the established ongoing collaboration between the Center for Learning Innovation and Customized Knowledge Solutions (CLICKS) and the Agency of French Speaking Universities (AUF Moyen- Orient); the Center has delivered a half day workshop on the Changing Pattern of Governance in Higher Education: New Realities for Leadership during the 14th General Assembly of Rectors of the Middle East Region (CONFREMO) that took place at La Sagesse University in Beirut, Lebanon from the 17th to the 18th of November, 2022.
The workshop that was geared towards universities' rectors and senior administrators attending the conference was facilitated by Dr. Narimane Hadj-Hamou, Founder and CEO of CLICKS and addressed the changing patterns of governance and their implications on leadership; it looked into what constitutes good approaches to governance in a time of uncertainty and within the specific context of institutions. How can HIEs enact these challenges and opportunities that best serve their mission and how can they create a responsive participatory shared governance structures that help address these increasing demands on the sector. Participants also discussed their institutional approaches towards risk management and governance assessment and some of the existing tools and frameworks were shared with participants during the session. Several universities' rectors and vice rectors from Lebanon, Egypt, Cyprus,
UAE and Iraq among others were in attendance.
Further information about the event visit:  http://libnanews.com/14eme-
assemblee-generale-de-laconference-des-recteurs-de-la-region-du-moyen-orient/