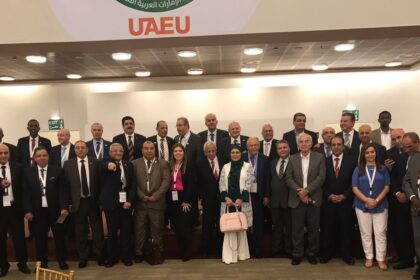 The Center for Learning Innovations and Customized Knowledge Solutions (CLICKS) represented through its Founder and CEO, Dr Narimane Hadj-Hamou participated in the 50th edition of the General Conference of the Association of Arab Universities held at the United Arab Emirates University from the 23rd to the 24th of October, 2017.
The general conference beyond presenting the association's recent progress, activities and achievements and holding specific meetings of its subsidiary committees) aims at providing a platform for strengthening cooperation among Arab universities and coordinating efforts among them as well as relations with the universities and relevant regional and international organizations.
This year's Conference also witnessed the election of the new secretary general of the association Prof. Amro Salama from Egypt. The meeting was attended by more than 180 university presidents and their representatives representing over a 100 universities and colleges from across most Arab Countries.
The first day of the conference witnessed a number of speeches including those of the Secretary General of the Association, Prof. Sultan Abu Orabi as, Secretary General of the Association and Chairman of CLICKS's International Advisory Board as well as Prof. Mohamed Albaili, Vice Chancellor of the UAUE, the host institution and representatives of different regional and international organizations.
In addition, winners of the Association's Award for Distinguished Researchers were recognized.