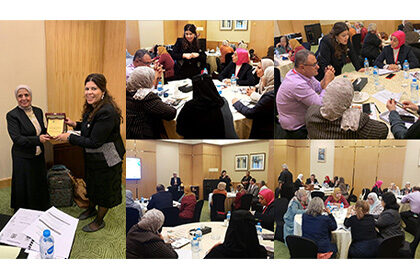 The Center for Learning Innovation and Customize Knowledge Solutions (CLICKS) has just concluded a two day workshop on "Program Assessment for Curricular Improvement" in the Capital of Egypt, Cairo.
The workshop which was attended by more than 30 participants from across universities in Egypt and other countries including Libya, Oman, Saudi Arabia, and the USA exposed participants to the fundamentals of program assessment, its purpose, benefits, and challenges and how to successfully develop and implement a program assessment. Participants were engaged in numerous group activities that helped them share their practices and' know-how'. The Program was facilitated by CLICKS's CEO Dr Narimane Hadj- Hamou and Dr. Lee Sutherland one of CLICKS's international associates.
The workshop was officiated with the opening remarks of Professor Youhansen Y. Eid, President of the National Authority for Quality Assurance and Accreditation of Education (NAQAAE) in Egypt who provided participants with an overview of the work of NAQAAE and progress and challenges they are facing with program level accreditation.
CLICKS is planning a series of programs in Egypt during the first half of 2020 as part of its strategy to support capacity building in Higher Education across various Arab States.