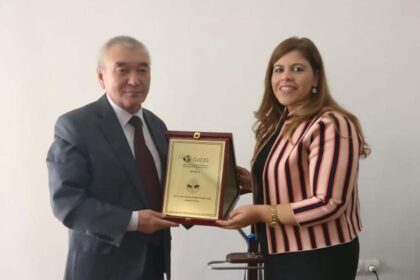 Today witnessed the signing of a Memorandum of Understanding (MoU) between CLICKS and Al-Farabi Kazakh National University (KazNU); one of the oldest universities of the Republic of Kazakhstan established in 1933 and serving today over 25,000 students in its 14 different Faculties.
The MoU which establishes a formal framework for collaboration between the two institutions was signed by Professor Burkitbayev Mukhambetkali Myrzabaevich, First Vice Rector from Al-Farabi Kazakh National University and Dr Narimane Hadj-Hamou, CEO representing CLICKS in the presence of various colleagues.
The MOU will support KazNU's strategic growth in alignment with its key priorities for the next few years. Under the MOU, CLICKS will provide its expertise and 'know-how' in areas related to learning and teaching, curriculum design and development, technology integration and quality assurance among others to facilitate and support faculty and staff professional development and provide expertise and consultancy services as needed.
The collaboration also extend to other areas including promoting research, dissemination of knowledge, the exchange of best practices and the organization of joint events and activities in Kazakhstan.