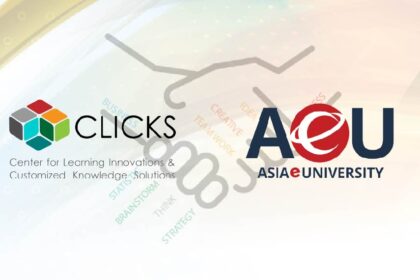 The Center for Learning Innovations and Customized Knowledge Solutions (CLICKS) has signed a partnership agreement with Asia e-University (AeU) in Malaysia to formalize and build on the commitments from both parties to support capacity building and research in Higher Education.
The agreement between the two institutions calls for cooperation in four different areas:
Establishing a virtual CLICKS branch in AeU to cater for the ASEAN market.
CLICKS and AeU to jointly conduct training programs and workshops in areas related to innovative teaching and learning, technology integration and leadership development.
Carry out joint consultancies in areas of mutual interest such as AI, Big Data and Learning Analytics
Undertake  joint R&D activities in areas of mutual interest
The agreement was signed last week by AeU President and Chief Executive Officer Professor Dato' Ansary Ahmed and the Chief Executive Officer of the Center for Learning Innovations and Customized Knowledge Solutions Dr. Narimane Hadj-Hamou.
It is worth to mention that AeU has grown significantly over the past few years to become one of the leading providers of e-education and is one of the prime movers in the Asian Credit Transfer System (ACTS), AeU is considered an enabler to be harnessed by Asian educational institutions to increase cross-border accessibility.
CLICKS's CEO, Dr. Narimane Hadj-Hamou stated that "one of the exciting things about this partnership is the common vision between our two institutions in terms of supporting online education and other forms of technology integration in Higher Education. We do have a number of programs and activities in common that we can build upon to better address the needs of universities in the ASEAN region. This is the beginning of what we hope will be a long partnership"