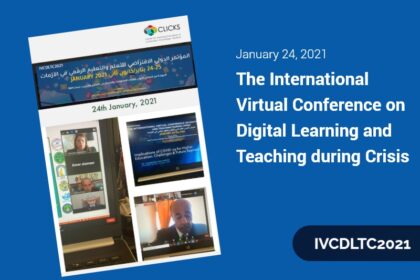 The CEO and Founder of CLICKS, Dr. Narimane Hadj-Hamou, participated in The International Virtual Conference on Digital Learning and Teaching during Crisis (The 6th session of the (International Conference on ICT in Education and Training – TICET2021)) organized by An-Najah National University in Palestine, which took place on January 24th, 2021.
The Conference aimed to promote research on the effects and changes resulting from the emergence of the Corona pandemic in the educational field; explore benefit from the trends of Arab and global experiences as well as educational applications in light of a crisis; promote the building and using the open educational resources.
Speakers from around the world exchanged expertise, experiences, and strengthened the bonds of ties between researchers in the Arab world and abroad.
Dr. Narimane Hadj-Hamou delivered a keynote address titled "Implications of COVID-19 for Higher Education: Challenges & Future Aspirations" outlining a dual strategy to bring disengaged students back to school, and mitigate effectively student disengagement in case of future lockdowns.