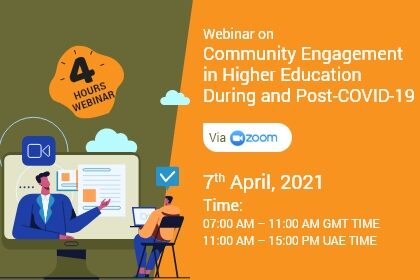 Date: 7th April, 2021
Time: 07:00 AM – 11:00 AM GMT TIME
11:00 AM – 15:00 PM UAE TIME
4 Hours Webinar
Webinar Fee : 99 USD
Overview
Universities have always been connected to the community by virtue of their long-standing mission and commitment to deliver quality teaching, research and service to society. However, since the COVID-19 pandemic started early 2020, these core areas have been profoundly disrupted, forcing institutions to rethink their business model in ways to sustain these contributions and stay relevant now and in the future. Having said that, the effects of the crisis has arguably further reinforced the priority of community engagement during and post-COVID-19. This emphasis has been evident from the ways in which universities around the world have quickly mobilized their knowledge and resources to respond to the crisis by addressing a range of societal needs. There have been outstanding examples of researchers and professionals engaging with the media to share expertise, and finding opportunities to participate in research on SARS-CoV-2. Online learning has become central to the institution's teaching model. Many institutions established funds, deployed emotional and mental support resources for students in need and communities in crisis. To ensure sustainability and impact of these practices, the webinar will discuss two important questions: (i) how to institutionalize engagement (which includes issues of measurement, rewards/recognition, infrastructure, faculty development etc.), and (ii) how to create effective community-campus partnerships.
During this webinar, you will be engaged to discuss how community engagement as a strategy (not a program) can be instrumental in your institution's mission during crisis; how to effectively plan activities and leverage mutually beneficial partnerships with tangible outcomes; how to deploy internal resources and core capabilities to target communities' specific need.
Webinar Objectives
At the end of this webinar, participants should be able to:
Discuss community engagement as a strategy during crisis.

Recognize the value of partnership as a critical success factor in community engagement.

Discuss how institutions leverage their core competencies to maximize impact on the community, student learning and the curriculum

Share methods of engagement for effective community engagement planning and communication
Target Audience
Directors and Staff working in community engagement programmes.
Webinar Facilitator
Mr. Mokhtar Benhadria, Malaysia

CLICKS's International Associate,
Head of Quality Assurance Division at International Centre for Education in Islamic Finance (INCEIF),
Kuala Lumpur
Read More