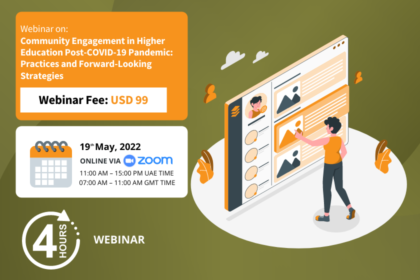 Date: 19th May, 2022
Time: 07:00 AM – 11:00 AM GMT TIME
11:00 AM – 15:00 PM UAE TIME
4 Hours Webinar
Webinar Fee : 99 USD
Overview
Universities have always been connected to the community by virtue of their long-standing mission and commitment to deliver quality teaching, research and service to society. However,as the COVID-19 pandemic is ending and transitioning into the endemic phase, higher education institutions, having learned from the effect of the crisis, are expected to transform to sustain their contributions to society and stay relevant now and in the future. In the post-pandemic era, there is an increasing demand on higher education to play a vital role in uplifting or supporting communities in need of assistance or engagement. Undoubtedly, the aftermathof the pandemic has produced new and complex challenges that only deep and meaningful university-community-industry collaborations will be able to address.
During this webinar, you will be engaged to discuss how community engagement as a strategy (not a program) can be instrumental in your institution's mission, how to effectively plan activities and leverage mutually beneficial partnerships with tangible outcomes, and how to deploy internal resources and core capabilities to target communities' specific need.
Webinar Outcomes
At the end of this webinar, participants should be able to:

1. Recognize the value of partnership as a critical success factor in community engagement.
2. Discuss how institutions leverage their core competencies to maximize their impact on the community.
3. Learn methods and good practices in planning and implementing community engagement.
4. Discuss how service learning can be instrumental in enriching the curriculum and building a culture of mutual engagement with the community.
Topics
1. Why community engagement matters?
2. Challenges in delivering high value community engagement
3. Developing your community engagement strategy
4. Maximizing community engagement impact by leveraging your institution's core competencies
5. Building mutually beneficial partnerships for the greater good
6. Integrating community engagement in the curriculum to achieve students' learning outcomes
Target Audience
Directors and Staff working in community engagement programs.
Webinar Facilitator
Mr. Mokhtar Benhadria, Malaysia

CLICKS's International Associate,
Head of Quality Assurance Division at International Centre for Education in Islamic Finance (INCEIF),
Malaysia
Read More