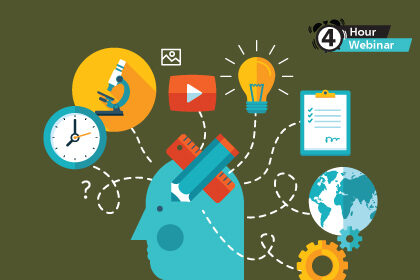 Date: 22nd December, 2020
Time: 07:00 AM – 11:00 AM GMT TIME | 11:00 AM – 15:00 PM UAE TIME
4 Hours Webinar
Webinar Fee : 99 USD
Overview
Creating effective student engagement in online courses, can be a daunting task for many instructors new to teaching online, and is strongly dependent on how well the course was designed.
While online course design is rooted in the same solid principles of face-to-face teaching, it requires additional considerations when it comes to course structuring and layout, content delivery, student motivations, learning activities and even student assessment which need to be tailored to the particular nature of online delivery. For students to remain engaged and active throughout their learning, instructors will need to carefully plan, design and deliver their courses. Student will need to be motivated in different ways and may require a greater level of clarity, support, guidance, coaching and mentoring.
This webinar will focus on the key considerations instructors have to keep in mind when reviewing their courses for online delivery to ensure their suitability to the new delivery method and ensure both an engaging and smooth learning experience
Objectives
By the end of this webinar, participants will be able to:
Understand the fundamentals and principles of instructional design;

Use principles of backwards design to plan a course or module that includes synchronous and asynchronous elements;

Design effective and engaging learning experiences in line with the articulated course outcomes;

Explore the essential ingredients of what constitutes a high-quality online learning and how to create an online presence;

Learn to design structured course content to maximize student retention;

Understand copyright and accessibility standards.
Key Topics
Foundation and Principles of Instructional Design

Exploring various possibilities of delivering learning through the use of technology – Understanding the dimensions of blending courses

Designing for online students – understanding who your students are


Using the principles of "backward design" to design your course

Course planning and alignment

Organizing content, learning resources and assessments in a way that empowers students to lead their own learning

Designing engaging learning activities

Course structure and navigation

Creating an online presence

Communicating intention and expectations in a way that is clear, helpful, and supportive of student learning

Tips and guidelines for facilitating online delivery

Brief overview of IP and copyright

Understanding accessibility standards.
Target Audience
Anyone involved in delivering or overseeing online learning including:
Faculty and Teaching staff
Deans & Heads of Departments
Instructional designers
QA staff
Webinar Facilitator
Dr. Narimane Hadj-Hamou, UAE
Founder and CEO of the Center of Learning Innovations and Customized Knowledge Solutions [CLICKS]