DR. JAINABA M.L. KAH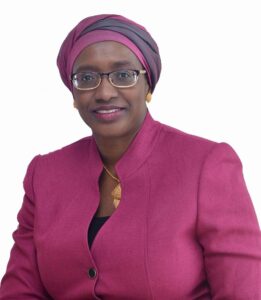 Jainaba M.L. Kah has a Ph.D. in Urban Planning and Policy Development from the Edward J. Bloustein School, Rutgers – The State University of New Jersey, USA. Dr. Kah also holds a Masters in Development Economics (M.D.E.) from Dalhousie University, Canada, and a Bachelor of Commerce (Cum Laude) from St. Mary's University also in Halifax, Canada. Dr. Kah is the Chairperson of The Adjudication Committee of the All Africa Public Sector Innovation Awards (AAPSIA), which is the first Africa wide ministerial initiative celebrating innovation in the Public Sector. She was also the Chairperson of the Board of Directors of Keystone Bank (renamed MegaBank), The Gambia for three years.
Dr. Jainaba M.L. Kah was Associate Vice Rector for Faculty Affairs and is currently the Associate Vice Rector for Strategy Development & Associate Professor of Management and Public Policy at Azerbaijan Diplomatic Academy (ADA) University where she is involved in developing, tracking and updating the University's strategic plan. She is also involved in the implementation of an effective management/professional capacity development initiative at ADA University, and assists in steering Executive Education Programs and ADA Foundation to build long-­‐‑lasting and mutually beneficial linkages with donors, including key business sector partners. Dr. Kah is also engaged in teaching, research and service in the School of Public and International Affairs and School of Business.
Before joining ADA University, Dr. Kah spent six (6) years as the Director General of the Management Development Institute (MDI) in The Gambia where she engineered a major transformation through donor fundraising, rehabilitating and expanding the campus, recruiting competent people and improving the institute's fiscal position. During her six-­‐‑ year tenure in office, she also served as the Acting Dean of the School of Business and Public Administration at the University of The Gambia. Dr. Kah was an Associate Professor at the American University of Nigeria (AUN). She worked for 6 years as an Assistant Professor of Public Policy and Administration and Director/Coordinator of the International Public Service and Development Track (IPSD) at Rutgers, The State University of New Jersey, USA. Dr. Kah also taught at the American University of Sharjah (United Arab Emirates) whiles on academic leave from Rutgers. Dr. Kah has extensive practitioner experience working for the World Bank as an Urban/Transport Specialist and also served as a consultant for the USA Federal Transit Administration; Financial Analyst for Amnesty International; and Audit Senior at KPMG, Peat Marwick Mitchell.
Dr. Kah won the Outstanding Faculty Award in the School of Business and Entrepreneurship at the American University of Nigeria in November 2008. She was also conferred a National Merit Award – Insignia: Member of The Republic of The Gambia (MRG) in 2014 in recognition of her contribution to higher education.