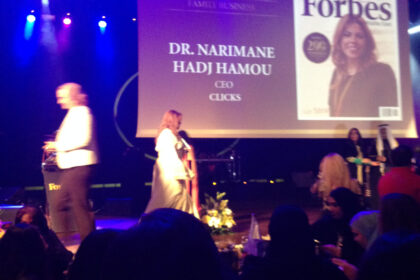 2nd of October, 2014| Forbes Middle East has unveiled its 2014 ranking of The 200 Most Powerful Arab Women in its September issue. The 200 women were recognized in an exclusive celebration which was held on October 1, 2014 at the Jumeirah Zabeel Saray, Dubai. This year's impressive lineup included 85 women in family business, 59 in government and 56 women in executive management.
Dr. Narimane Hadj-Hamou, CEO and Founder of the Center for Learning Innovations and Customized Knowledge Solutions (CLICKS) has been recognized by Forbes Middle East – under the family business category (representing her country Algeria) for her work and contribution to the field of higher education and as an entrepreneur for setting up and leading CLICKS.
The family business category ranking took into consideration a range of criteria such as: the degree of power associated with the position; years of professional experience; achievements; individual's media interaction and online presence among others.
Dr. Hadj-Hamou expertise and professional experience in Higher Education span areas such as technology integration and e-learning; quality and institutional excellence and leadership development. She has over the years assumed several high level positions including acting as a Dean, an Assistant Chancellor for Academic Development (Provost) and a CEO and have been active in publishing and engaging with delivering keynote addresses, workshops, leading conferences and forums, roundtables and panel discussions regionally and internationally.
Today, Dr. Narimane is pursuing her passion for advocating excellence and innovative thinking in higher education by leading the Center for Learning Innovations and Customized Knowledge Solutions (CLICKS) as a partner for learning institutions that support the development of academic excellence, innovative thinking, capacity building and knowledge solutions transfer for the 21st century.
On this occasion, Dr. Narimane shared "I am very honored of being considered in this prestigious ranking and to be listed among the 200 most powerful Arab Women for 2014. I consider myself very fortunate to have been given the opportunity to work in various higher education institutions, be engaged with numerous projects regionally and internationally and have had the chance to hold leading positions. I yet consider this the start of a long journey and aspire along with my dedicated team to expand the outreach of our center's activities to all the Arab Region. I also would like to take this opportunity to congratulate all the other women who were recognized for their outstanding contributions in various sectors and wish them continuous success"
On the list of the 200 winners and under the government category were related to field of higher Education, Sheikha Lubna Al Qasimi, UAE Minister for International Cooperation and Development and President of Zayed university and Dr. Rawya Al-Busaidi, Minister of Higher Education and Scientific Research in Oman.
Dr. Narimane was recognized with other leading women at the special ceremony which was attended by HE Sheikh Nahyan bin Mubarak Al Nahyan, UAE Minister of Culture, Youth and Community who in his speech has emphasized that holding the awarding ceremony in U.A.E. reflects the country's strong commitment to women's empowerment and to providing the favorable circumstances for women to enable them to make full, excellent and effective contribution to national and global progress.