EDUCAUSE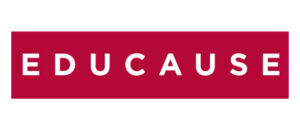 EDUCAUSE helps those who lead, manage, and use information technology to shape strategic decisions at every level. EDUCAUSE actively engages with colleges and universities, corporations, foundations, government, and other nonprofit organizations to further the mission of transforming higher education through the use of information technology.
Through various programs and activities, EDUCAUSE and its members contribute to thought leadership on major issues, help clarify the current environment, document effective practices, and highlight how emerging trends and technologies may influence the evolution of IT in higher education.
EDUCAUSE members are at the crossroads of important higher education issues and address a spectrum of challenges including enterprise systems, strategic leadership, teaching and learning, cybersecurity, identity management, and more.
Membership is open to institutions of higher education, corporations serving the higher education information technology market, and other related associations and organizations. A comprehensive range of resources and activities are available to all interested employees at EDUCAUSE member organizations.
EDUCAUSE programs and resources include professional development activities; print and electronic publications, including books, and EDUCAUSE Review, our flagship magazine; advocacy; teaching and learning initiatives; data, research, and analytics; special interest communities; awards; and extensive online information services.
International institutions provide the EDUCAUSE community with valuable perspectives on IT solutions and strategies at work on their campuses. Thus, EDUCAUSE encourages international institutions to become EDUCAUSE members. Read the association's position on international engagement
EDUCAUSE has offices in Louisville, Colorado, and Washington, D.C. The Louisville office houses administrative, communications, conferences, information, and member services. The Washington office is the center of the association's government relations and policy initiatives.