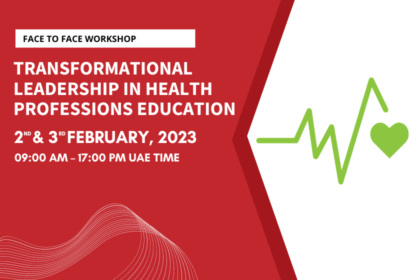 Date: 2nd & 3rd February, 2023

Time: 09:00 AM – 17:00 PM UAE Time
Early Bird Fee: 2550 AED (695USD)(for registration fully completed prior to December 31, 2022)
Workshop Fee : 3000 AED (817 AED) (for registration after December 31, 2022)
Venue: Hotel Pullman Creek City Center, Dubai, UAE
Workshop Overview
Leaders (Presidents, Deans, Academic Heads) of health professions higher education Institutes play different roles and interact with different cultures and complex systems, particularly education and healthcare.
This two days' workshop is designed for senior academics and health professionals to improve their competencies in leading their institution and transform it to an effective and efficient organization. Several controversial concepts will be discussed. It will include organisational. culture and leadership and management spectrum, leaders and followers, contemporary leadership theories, and the complex relation at the top of the organisation. Last but not the least we will also discuss about the importance of self-leadership. We will show ways what one need to do to be happy, healthy and successful
The program is structured and delivered in a way that allows the presenters and the participants to interact and share their experiences and learn from each other. Different strategies of learning will be used mainly case-based analysis, reflections, appreciative enquiries and sharing experiences. We hope that this workshop will help in taking you from being a leader to super leader.
Workshop Objectives
By the end of the workshop participants will be able to:
Comprehend leadership and organisational culture, its development, changes and transformation.
Redefine the meaning, roles, and abilities of a leader in health professions education "Who is the Dean/President?"
Apply leadership theories in leading health professions education institutions. "From theories to practice".
Recognize the complexity of the health profession education system and the difficulties of leading in a rapidly changing work environment.
Use multiple strategies-situational and transformational leadership in leading health professions education organisations.
Managing the Board (Every leader has a boss).
Self-leadership (Mental and physical well-being with subcategories)
Managing leadership stress "Alone at the top"
Workshop Structure
Session (1) Leading the 21st Century University
Emerging trends for the HE & the Health Profession Education (HPE0
Complexity of the HE/ HPE eco-system
Implication on Higher Education Institution: The need for agile and strategic leadership
Leadership in the complex Health Professions Education (HPE) eco-system
Session (2) Strategy formulation and managing the Unknown
Strategic thinking and strategic planning
Strategic planning process and the role of leadership
Considering risks in today's dynamic environment
Building agility
System thinking and health system sciences for leaders in medical education.
Case studies from the healthcare sector
Session (3) Leadership Theories and Styles
Leadership theories and styles – emphasis on health professional leadership
Governance and leadership
Create a partnership with the Board
Session (4) Transformational Leadership
What is transformative leadership?
Transformative leadership framework
Transformative leadership in the HPE health care profession
Session (5) Managing Change and Leading & Motivating People
Cognition, Emotional Intelligence, and leadership
Understand different approaches to leading organisational change
Understand how to manage resistance to change
key motivators of human behaviour
Motivation and Goal setting in the workplace
Teamwork as an important success factor in transformational leadership
Each session will include structure activities to engage participants in reflective work and in sharing their experiences and practices.
Target Audience
This workshop is geared towards senior academics and health professionals working in higher education including:
Presidents, Vice Presidents and Provosts of health professions higher education

Deans and Vice/ Associate Deans of Health Colleges

Heads of Departments
Co- Facilitators:

Dr. Mohamed Al-Eraky
PhD Medical Education
Assistant Professor Medical Education
Gulf Medical University
Read More
Co- Facilitator:

Prof. Dr. Yawar H Khan
Deputy Vice Chancellor (Academics),
Riphah International University
Islamabad, Pakistan