The Center for Learning Innovations and Customized Knowledge Solutions (CLICKS) has throughout the years developed a robust and diversified range of professional development programs, which can be tailored and customized to meet the specific needs of Higher Education Institutions across the region and beyond. These programs range from half day webinars and 2 to 3 day workshops to longer of 3-6 months certificate programs.
These programs are in line with the Center's six areas of expertise.
CATEGORY OF PROGRAMS
HOW TO REQUEST YOUR IN-HOUSE
PROGRAM?
STEP 1
Request an 'in-house'
program by filling our
Online Requirements
Analysis Form available
through our website at
www.cli-cks.com. The
purpose of submitting
the form is to assist the
Center in grasping a
good understanding of
the institution's needs,
the target audience, and
the overall objectives
intended from running the
program. The form shall
be filled by a person who
possesses the necessary
knowledge about the
institution, the area of
work the program will be
tackling, and participants
for whom the program is
to be delivered.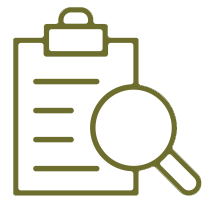 STEP 2
Once the form
is received, our
team of experts
will analyze your
requirements
and respond
with a formal
proposal (within
3-5 working days).
Occasionally,
the Center
may contact
the institution
for further
information or
clarifications.
The submitted
proposal will
include technical,
logistical, and
financial aspects.
STEP 3
Upon approval of
the proposal by
the institution, the
necessary steps
will commence to
plan the delivery
of the program(s)
as per dates
mutually agreed
upon.
STEP 4
CLICKS will
develop the
materials, deliver
the program,
and organize
all necessary
logistics to run the
program.
STEP 5
CLICKS will
produce a post–
training report
that will be sent
to the institution
(this excludes
webinars).