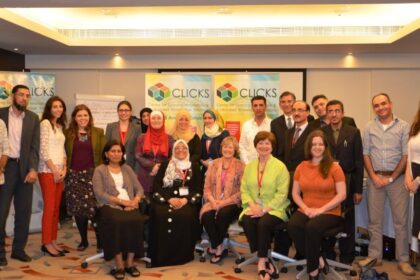 Today marks the end of the three day jointly certified capacity building program titled "Innovative Methods for Student-Centered Teaching" . The three day hands- on program organized by the Center for Learning Innovations and Customized Knowledge Solutions (CLICKS) and the Global Initiative for Education and Leadership at the University of Texas at Austin in the USA aimed at developing faculty and teaching staff skills for the 21st century teaching. A number of key issues were addressed during the program, including understanding various learning styles, designing curriculum, developing learning plans, assessment, feedback among other topics.
The program was attended by participants representing nine different Higher Education Institutions from across the UAE, Oman, Saudi Arabia and Qatar.
The program is part of the partnership agreement that was signed between two institutions to jointly offer capacity building programs and other consultancy services to universities and colleges across the MENA region.
Dr. Narimane Hadj- Hamou, CEO of CLICKS added " this introductory program marks the start of a series of programs and other activities the Center plans to jointly offer with the University and we aspire at continuously expanding our portfolio of offerings to address the emerging needs and requirements of universities and colleges across the region"
On the other hand, Prof. Richard Flores, Senior Associate Dean for Academic Affairs at the University of Texas at Austin added "Understanding curriculum design and student assessment through the lens of student-centered teaching and learning has been the focus of a three-day workshop in Dubai. The first jointly-certified public program by UTGI and our colleagues from CLICKS has been a successful collaborative effort. Working with faculty and administrative leaders from the UAE, Saudi Arabia, Qatar, and Oman, the workshop has been an engaging and intensive overview of fundamental concepts and practice-based learning."
Both the UT and the Center for Learning Innovations and Customized Knowledge Solutions (CLICKS) plan to run a series of capacity building programs during the coming academic year 2015-16 which will be soon announced.