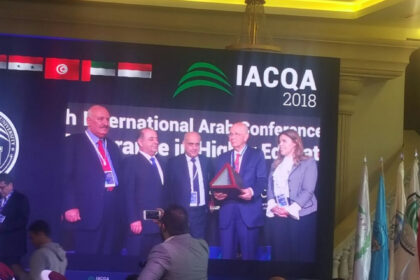 The Center for Learning Innovations and Customized Knowledge Solutions (CLICKS) has supported the recent 8th International Arab Conference on Quality Assurance in Higher Education organized by The Lebanese International University (LIU) in collaboration with the Association of Arab University and the University of Al Zarqaa in Jordan. The conference which took place in the Bekeea Campus of LIU from the 11th to the 13th of April under the theme "Inspiring Excellence and Transforming Higher" attracted more than 300 participants from different Arab States in additional to a number of delegates from non-Arab countries. The conference tackled a number of sub-themes including governance, quality management in HE, implementation of QA and accreditation.
During the conference Dr. Narimane Hadj-Hamou, Founder and CEO has presented a keynote address on the "Quality Assurance and Accreditation in the Arab Higher Education: Evolution, Experience and Impact" in which she shared insights about the evolution of QA and accreditation in the Arab world and discussed how these developments have changed the higher education landscape. She also addressed some of the challenges faced in implementing QA at both a national and regional level as well as at an institutional level and the importance of building a quality culture as oppose as perceiving QA as only compliance to standards and requirements from accreditation agency.
In her intervention Dr Hadj-Hamou has shared the UAE experience with QA and accreditation being among the first few Arab countries that has set a national commission of academic accreditation (CAA) in 2002 and established in 2010 its national qualification authority (NQA) to coordinate the establishment and implementation of an internationally recognized qualifications system for the UAE.
Dr. Narimane also took place of the Presidential Panel Discussion on "The relation between learning environment, learning outcomes and employability skills" which took place on the second day of the conference along other colleagues including: Professor Francisco Marmolejo, the World Bank's Lead Tertiary Education Specialist and Coordinator of its Network of Higher Education Specialists; Professor Bassam el Helo, President of Al Zarqa University in Jordan and Mrs. Fiona Crozier, Head of Quality Assurance Agency (QAA) for Higher Education, United Kingdom
As part of the conference, the Center has organized on the 9th and 10th of April in collaboration with the Quality Assurance Agency (QAA) in the UK a two day pre-conference workshop on "Building a Sustainable Quality Culture: From Internal QA to External Accreditation" which was attended by participants from different Arab states including Lebanon, Egypt, Iraq, Oman, the UAE, Jordan, Syria and Sudan among others