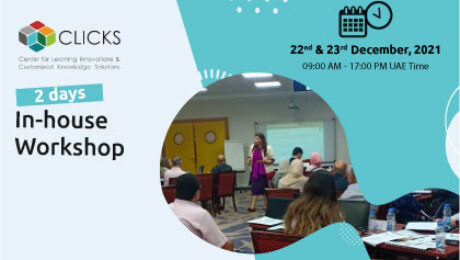 Date: 22nd & 23rd December, 2021
Time: 09:00 AM – 17:00 PM UAE Time
Two Days In-house Workshop

Workshop Overview
The massive increase in use of online learning due to COVID-19 has brought several challenges as well as many benefits to the educational sector. Instructors who switched to remote learning have learnt from experience that their teaching style had to change to promote student engagement. Academics realized the urgent need to implement new ways of designing and delivering their courses; they had to familiarize themselves with new technologies and to re-think the means and approaches through which they can engage their students and build learning communities in virtual spaces.
Going forward many have been considering the numerous benefits offered by online learning and how these can be combined with the benefits of face-to-face learning to enrich the learning experience. The challenge remains around how to determine the best blend for your course and how to plan your students' activities when parts of your course is in-person and others are online.
Blende learning integrates thoughtfully structured online activities into face-to-face courses. Students engage in a range of online activities that may involve taking online quizzes, contributing to discussion forums, maintaining a digital portfolio or blog or interacting with online course materials. These activities when meaningfully planned can promote the transfer of knowledge, enrich the in-class activities and foster a better sense of community within the course.
In this 2-day intensive and highly interactive 'hands-on' workshop; the aim is to develop participants' knowledge and skills to design and plan effective learning activities suited for blended learning and to provide them with a practical understanding of how blended learning can help students develop competencies such as autonomy, problem-solving, critical thinking, as well as a sense of self-efficacy.
Participants will work with colleagues to plan backward their courses and to construct learning outcomes, identify assessment strategies, and plan course content and learning activities. They will explore ways in which they can blend online and face-to-face activities enriched with the use new tools and strategies, which will positively impact student engagement. Topics and concepts discussed will involve: course design principles, constructive alignment, active learning, course organization, feedback for learning, etc. Participants will also actively explore a variety of useful, free digital tools and discuss how they can be integrated as part of the course learning activities. They will also come up with examples of activities which effectively integrate various principles taught. 
Workshop Objectives
By the end of the workshop participants will:
Develop a deeper understanding on blended learning; the opportunities and challenges it offers and its different types
Design and plan a blended learning course using backward design principle
Align the intended learning outcomes, assessments and teaching and learning activities/ content
Effectively implement active learning into course design and address potential benefits and challenges
Explore various technological tools, approaches and activities to foster student engagement in blended courses
Create a plan for implementing a blended course
Reflect upon your current practices and those of peers joining the workshop
Workshop Structure

Session (1): Blended learning: An Introduction

Workshop overview and introductions
Icebreaker activities
What is blended learning: challenges and opportunities
What and how can we blend?
Different kinds of blended learning
Online Learning Environments
Personal experiences
Session (2): Designing for Blended Learning Courses
Backward Design
Constructive Alignment
Learning Outcomes, Assessment, Content & Learning Activities
Considerations for Designing Blended Learning Courses
Session (3)
Selecting & planning your blend
Organizing your course – modularization
Preparing your course content: Key Principles
Engaging student through assessment: Thinking out of the box
Feedback for learning

Session (4&5): Implementing Active Learning in Blended Learning
What is Active Learning?
Reflection in Active Learning
Planning Learning Activities
Active Learning Strategies and Techniques – from simple to more complex
Tools to Engage Students (Discussion forums, Portfolios, Quizzes, Blogs, Wikis, Padlets, etc.)
Challenges for Implementing Active Learning
Session (6)
Choosing blended good practices
Creating your course plan for blended delivery- Summary of Activity
Course evaluation & reflections
Awarding of the course Certificate of Attendance;
Who is this Workshop for?
Faculty members and teaching staff working in the Higher Education Sector
Directors, Managers and Staff working in Teaching and Learning Centers
Deans of Colleges/ Faculties and Heads of Departments
Instructional Designers and Educational Technologists
COVID-19 Health and Safety Measures
All participants should have tested negative for COVID-19. Negative 48hrs COVID Test will be requested for all participants and should be presented at registration desk
Wearing a face mask and ensuring safe distance will be mandatory throughout inside the workshop room. Non-compliance may result in government enforced penalties.
Capacity will be limited in session rooms and regular hand washing is recommended and sanitizers will be provided in all key areas

Workshop Facilitator
Dr. Narimane Hadj Hamou
Founder and CEO, the Center of Learning Innovations and Customized Knowledge Solutions (CLICKS), UAE
Former Assistant Chancellor for Learning and Academic Development (Provost) and Dean of Learning and Technologies, Hamdan Bin Mohamed Smart University, Dubai, UAE