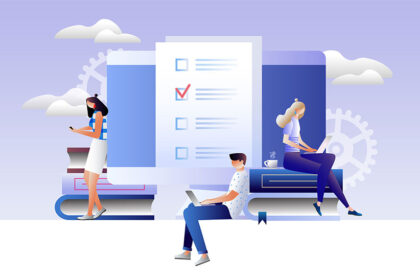 4 Hour Webinar
Date: 14th July, 2020
Time: 12:00 PM – 16:00 PM UAE | GMT – 08:00 AM – 12:00 PM
Webinar Fee : 99 USD
Overview
This webinar aims at supporting instructors and teaching staff during their transition to online learning and will focus particularly on student assessment strategies that are believed to be the most effective in an online environment.
Online learning is not a new way of learning and has been around for quite some time; throughout the years, significant research and practice were carried out to identify the best way to implement student assessment in an online environment. A wide range of strategies have been identified to safeguard the effectiveness, rigor and quality of student assessment when courses are delivered online. This include among many strategies: integrating ongoing formative assessment; using a variety of assessment strategies to accommodate different learning styles; relying on collaborative, peer and self-assessment and carefully designing assessment components that are authentic and minimizes the risks of plagiarism.

Assessment techniques including the use of online quizzes, discussion forums, projects, portfolios, blogs and wikis as well as peer and self-assessments will be discussed during the webinar. Moreover, the role of meaningful feedback cannot be overemphasized when it comes to online learning and the webinar will tackle the main characteristics of meaningful feedback and the different ways and techniques to provide effective feedback to students.

Webinar Objectives

At the end of the webinar, participant should be able to:
Understand the key principles for moving assessments online;

Design assessment strategies that are suitable to the nature of online learning: What should I be assessing?

Use effectively various educational technology tools to support student assessment;

Understand the role and importance of meaningful feedback in online learning;

Comprehend and know how to address issues in managing quality and standards in online assessment (i.e. dealing with plagiarism and authenticity);

Reflect on current institutional/personal student assessment practices.

Key Topics
Assessment in traditional learning versus assessment online

How to assess effectively in an online course? Diagnostics, formative and summative assessments

Technology tools to support assessment (i.e. discussion forums, online quizzes, portfolios, blogs, etc.)

Key considerations while designing assessment for online learning

Designing online exams and quizzes: Tips and guidelines

Effective, constructive and timely feedback: Why does it matter so much, online?

Ways of providing student feedback online?

Issues in managing quality and standards in online assessments

Assessment ideas for online learning with examples
Target Audience
Anyone involved in delivering or overseeing online learning like:
Educators, Faculty and Teaching Staff
Deans & Heads of Departments
Staff working in Learning Centers
Dr. Narimane Hadj-Hamou, UAE
Founder and CEO of the Center of Learning Innovations and Customized Knowledge Solutions (CLICKS)
Read More