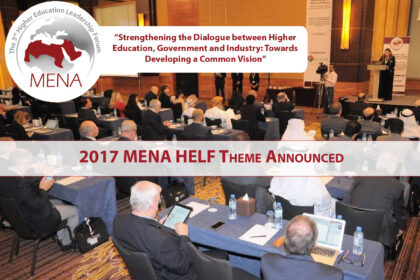 Dubai| 10th of August, 2016
The Center of Learning Innovations and Customized Knowledge Solutions (CLICKS) and the Technical Committee of the 3rd MENA Higher Education Leadership Forum (MNEA-HELF) are pleased to announce the theme for the forthcoming 2017 MENA-HELF organized from the 14th to the 16th of November, 2017 in Dubai, UAE. The theme titled "Strengthening the dialogue between Higher Education, Government and Industry: Working Together towards a Common Vision" was selected given the pressing need to continuously build and grow seamless relationship between HE, Government and Industry to support the development of a knowledge based economy and society that is equipped with well-prepared young entrepreneurs that meet today's market needs and who are able and capable of driving innovation and supporting their nation's development.
The Forum is expected to gather more than 300 higher education leaders, decision makers, and senior government and industry representatives from over 60 countries to discuss future directions for HE as well as strategies and means for establishing and improving links between the higher education sector, government and industry to support graduates' employability, relevance of academic programs, and research and innovation collaborations among other matters.
The Forum activities will involve a number of plenary sessions with keynote addresses, focus groups, interactive panel discussions and presentations of good practices in addition to an exhibition that will be set out throughout the three days of the event.
Accordingly, the Technical Committee of the 3rd MENA -HELF invites leaders of higher education as well as those representing government and industry to submit best practices and case studies of relevance to the Forum's theme and sub-themes that explicitly highlights lessons learnt from which other institutions of higher education or organizations can learn and adapt.
Contributions are made against one of the five streams:
Stream 1| Promoting University- Industry Collaborations
Universities, government  & business: Building an innovation driven ecosystem
Supporting mechanisms (strategies, structures & approaches) for university-business cooperation
Building an entrepreneurial university ecosystem
Creating synergies through alliances, networks and partnerships
Developing incentives for  encouraging university-business cooperation
Measuring the impact of interactions and partnerships
Stream 2| Improving Graduates Employability through Innovative Curricula
Strategies for improving graduates employability
Integration of employability skills and competencies  in curriculum
The role of internship and field experiences
Extracurricular activities role in improving soft skills
Improving the learning experience
Improving faculty and teaching staff skills to support employability
Engaging with the industry throughout the program lifecycle
Engaging Alumni
Stimulating entrepreneurial mindsets, attitudes and creativity
Joint Curriculum development for innovation and entrepreneurship
Using Data Analytics
Stream 3| The Role of Universities in Technology Transfer
Business Models for University Industry Technology Transfer
Setting up and managing incubators, technology transfer offices (TTOs) and science parks and their role in the entrepreneurship ecosystem
Technology commercialization examples and case studies
Technology transfer in university-industry-government cooperative research
Dealing with patenting & licensing issues
Stream 4| Academic- Industry Research & Innovation Collaborations
Frameworks and models to support research and innovation driven collaborations
Common approaches and  methods for creativity & innovation
University, government and industry R&D Collaborations
Examples of successful academic-industry collaboration for advancing innovation
Cooperation patterns: R&D consortia, international strategic alliances
Stream 5| Public Policy Supporting Academic- Industry Collaborations
Regional and national innovation systems
Government Policy and legislation supporting academic – industry collaboration
Governmental and private funding and support infrastructures
Government reforms to improve employability of HE graduates
All abstracts are to be submitted to the Technical Committee via email at inquiries@menahelf.com by no later than the 15th of November 2016. Additional information about submission guidelines can be found here