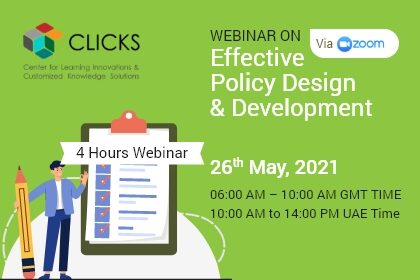 Date: 26th May, 2021
Time: 06:00 AM – 10:00 AM GMT TIME
10:00 AM – 14:00 PM UAE TIME
4 Hours Webinar
Webinar Fee: 99 USD
Overview
Policies are essential to Higher Education Institutions (HEIs) as they clarify the expectations from various members of the community, provide a framework for institutional integrity, promote consistency, efficiency and effectiveness, help mitigate and manage institutional risks and supports compliance and adherence with accreditation requirements.
However, despite the 'well- known' benefits of having well -designed, consistent and 'fit for purpose' institutional policies and procedures; developing these can be a daunting activity for Universities and Colleges; in particular given the very complex nature of Higher Education and the various internal and external influencing factors.
The aim of this webinar is to provide those with policy drafting, management and/or review responsibilities with an opportunity to explore how good policies can be formulated, implemented, regularly assessed and reviewed from a system perspective.
The webinar will expose participants to a six-phase policy development life cycle process which can be easily adapted to different institutions. The relation between institutional mission, values, strategic goals, internal and external quality assurance and policies will be addressed throughout the session.
Various strategies and approaches to improve compliance will be discussed as well as the link between policy compliance and risk management.
Webinar Objectives
By the end of the webinar participants will:
Get an understanding of the key elements of better practice in policy development and review from a system-wide perspective
Understand the process for policy development, implementation, monitoring and reviewing of policies and how to analyze monitoring indicators
Build institutional frameworks and processes for defining, formulating, implementing, overseeing, assessing and reviewing institutional policies in participatory manner.
Write clear, concise and coherent policies which are aligned with the institutional mission, core values and strategic goals
Develop a policy register and create accessible policy websites
Reflect on current institutional practices related to policies' development, implementation, evaluation and revision
Key Topics
The webinar will be offered through 3 interrelated sessions as follows:
Session 1: Building Your Capacity for Policy Development
Education Policy: Why? What? How?
Organizational culture and policies
Issues and challenges facing policy development in Higher Education
The difference between strategies, policies and procedures: why do they matter?
Stakeholders' engagement with policies development and review
Categories of policies in higher education
Characteristics of good policies
10 reasons why policy fails
 Session 2: The Policy Development Life Cycle
The Policy Life Cycle
Policy initiation
Policy development and writing style
Policy consultation and approval
Policy communication & training
Policy implementation, monitoring and compliance
Policy evaluation and review
Session 3: Putting Together an Integrated System
Structure of a policy document
Policy on Policies on policies
Building an integrated institution wide system
Establishing compliance programs & their role in risk management
Developing institutional policies' repositories
Who is this Webinar for?
Directors and staff working in quality assurance and institutional effectiveness offices
Manager and staff in charge of overseeing the process for policy development and implementation
Staff in charge of compliance programs and risk management
Vice Presidents, Deans of colleges and schools interested in policy development
Registration Closed
Webinar Facilitator
Dr. Narimane Hadj-Hamou, UAE
Founder and CEO, the Center of Learning Innovations and Customized Knowledge Solutions (CLICKS)
Read More