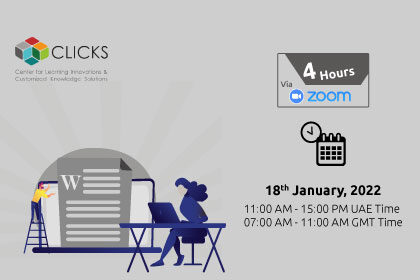 Date: 18th January, 2022
Time: 11:00 AM – 15:00 PM UAE TIME
07:00 AM – 11:00 AM GMT TIME
4 Hours Webinar
Webinar Fee: 99 USD
Overview
Gaining funding for research and activity-oriented projects is an important aspect of any academic's life and is also increasingly critical to the status of institutions of higher education in national and global ranking systems. At an individual level, the amount of funding raised is used as an indicator in applications for employment and promotion and successful grant applications make a huge difference to an individual's curriculum vitae. At institutional level, grants allow for increased production of research and for enhanced visibility and networking with other universities and colleges.
Rejection rates for grant applications are very high, however. The Wellcome Trust, for example, funded only 20% of the applications it received in the 2017/2018 year. The application process is likely to become even more competitive as we move into the future as the COVID-19 pandemic has impacted on the amount of funding made available by many state-funded organisations.
The aim of this webinar is to develop participants' ability to write successful grant applications. It does this by seeing the development of a grant application as a process which begins with the identification of potential funders in an individual's area of research and potential academic activity. The webinar then deals with the need to comply with criteria for funding and the completion of an application.
Applications also require information about implementation and monitoring in a process that often calls for the completion of a 'log frame'. Developing a log frame means that project goals, outcomes, outputs and activities need to be identified. Participants will be guided in seeing the differences between goals, outcomes, outputs and activities and in identifying indicators necessary for project implementation and monitoring. The importance of developing means of verification for each indicator will also be addressed along with the need to state assumptions and identify potential risks.
Project funding is often only released in tranches and is dependent on the submission of regular reports. The final part of the webinar will deal with the need for reporting on progress in order to ensure continued funding and, also, to pave the way for more funding of future projects.
Webinar Objectives
By the end of the webinar participants will:
Find potential funders of research or academic activities in their own area of expertise
Identify criteria for funding in a call for funding
Distinguish between goals, outcomes, outputs and activities in project design
Identify indicators against which achievement can be measured
Identify means of verification for those indicators
Complete a project log frame
Key Topics
The webinar will be offered through 4 interrelated sessions as follows:
Session 1: Identifying Potential Funders
Who funds research?
How do funders decide on what they will give money for?
Where to look for calls for funding
Getting notifications of calls for funding
Session 2: Analysing a Call for Funding
Identifying eligibility for funding
Examining criteria for funding
Adapting existing ideas and proposals to meet calls and criteria
Session 3: Developing a Log Frame
The difference between project goals, outcomes, outputs and activities
Identification of indicators for the measurement of progress against goals, outcome and outputs
Providing evidence to verify achievement against indicators
Reflecting on progress and taking action to keep on track
Session 4: Project Reporting
Reporting against indicators in a log frame
Reporting deviations and asking for permission for project modifications
Financial reporting
Writing the final 'closing off' report
Who is this Webinar for?
Academics interested in seeking funding for their research or for activity based projects in their area of interest
Directors and Deputy Vice Presidents of Research
Directors and Deputy Vice Presidents of Community Engagement
Webinar Facilitator
PROF. CHRISTINE MARY BOUGHEY
Former Deputy Vice Chancellor, Academic & Student Affairs, Rhodes University, South Africa