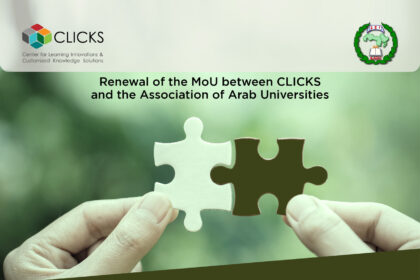 The Cooperation between the Center for Learning Innovations and Customized Knowledge Solutions (CLICKS) and the Association of Arab Universities was renewed recently. The renewed MoU focuses on organizing joint activities and programs to support capacity building, training and the exchange of knowledge in areas of quality assurance, governance, leadership development, teaching and learning, technology integration and research.
The renewed agreement between the two organizations will focus on:
Organizing joint conferences, training programs and activities in the above mentioned areas
Promoting the transfer of best practices and 'know-how'
Jointly engaging in publications and launching awards and programs
The alliance between the two parties was first established when an MOU was first signed in November, 2013 covering a period of five years to formally acknowledge the relationship between the two organizations with the aim of supporting the growth and development of the Higher Education Sector in the Arab region through the provision of capacity building opportunities, joint programs and events.
HE Dr. Amr Ezzat Salama, Secretary General of the Association of Arab Universities in this context said: "In line with the Association of Arab Universities (AArU) vision and mission statement to support the advancement of the Higher Education Sector across the Arab region and beyond an agreement with CLICKS was signed. The MOU aims to establish and develop a strategic collaborative relationship between the two parties in order to engage in mutually beneficial collaborative activities in the Arab region that drive post-secondary academic and operational excellence and to build capacity in area of Leadership Development, Governance, Quality Assurance and Accreditation, Strategy Development, Learning and Teaching, Technology Integration and Research."
On signing the renewed MOU, Dr. Narimane Hadj-Hamou, Founder and CEO of CLICKS added: "We are delighted to have renewed our memorandum of understanding with the Association of Arab Universities to reinforce our partnership  and foster greater cooperation between our Center and the Association  and enable us to work more closely on a number of shared strategic initiatives, which include promoting quality and innovation in HE; training and capacity building, promoting the exchanges of good practices and 'know-how', establishing and Arab 'think-tank' for HE  and continuing to address key issues of relevance to our region"