Professor Yusra Mouzughi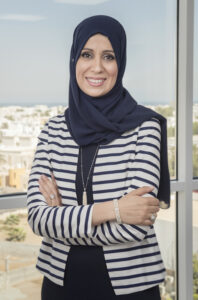 Professor Yusra Mouzughi is the Vice-Chancellor at Muscat University as well as the acting Vice Chancellor for Academic Affairs. Professor Mouzughi is the first female leader of a University in Oman. In her role as Vice Chancellor, Professor Mouzughi is leading on creating the strategic vision to achieve the objectives of Muscat University in a growing and fiercely competitive higher education landscape. She also has oversight of the Academic Affairs which entails responsibility for the leadership, policy, quality and monitoring of academic, faculty, and student affairs across the whole University. Both these roles are critical to the success of any university but more so for a newly established institution.
Prior to joining Muscat University, Professor Mouzughi worked for over 14 years in the UK higher education sectorand developed expertise in education and research management with a particular focus on Professional Doctorates. Professor Mouzughi received her PhD in Knowledge Management from the UK and has developed a cross disciplinary research profile spanning knowledge sharing and the sustainability agenda. She has since supervised over eighteen Doctoral theses in the broad management area.
Professor Mouzughi has numerous publications in the field and is an invited keynote speaker at many international conferences. She is also an external reviewer with the Oman Academic Accreditation Authority (OAAA)and the Hong Kong Council for Accreditation of Academic and Vocational Qualifications.Prior to joining academia, Professor Mouzughi worked as a project manager in the financial services sector in the UK.