Panel Discussion 

8
Students Mental Health and Well-being in the ERA of Covid19
Monday 21st December, 2020
17:00-18:30 UAE Time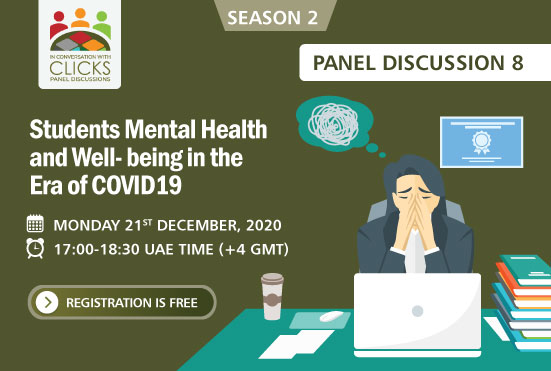 Panel Overview
With the global COVID-19 pandemic that has forced the closure of higher education institutions for extended periods; universities and colleges have confronted unprecedented challenges as they quickly had to shift classes to an online format, develop faculty skills, support students' needs, and prepare for different scenarios and plans amidst great uncertainty. In addition, one major concern for universities has been remain to safeguard the health and safety of its larger community.
The pandemic has disrupted the sector in many ways and has triggered much worry, stress, and uncertainty that without any doubt had both indirect and direct impact on students' well-being and mental health in specific. From concerns around their own health and that of their loved ones, to changing living environments, struggles with getting technology access, financial difficulties for many families and concerns with study workload and new learning requirements; students may feel more than ever vulnerable with so much uncertainty and change.
Student mental health in higher education has been an increasing concern; yet not addressed sufficiently in many parts of the world. This particular panel aims at highlighting how the pandemic is affecting students' mental health; what are the most common mental health obstacles affecting students and what sort of strategies, measures and support universities and colleges can take to promote student health and well-being during and after COVID-19.
Very specifically the panel aims at:
Providing an overall assessment of the impact of the COVID-19 pandemic on students' well-being, emotional and mental health triggered by campus closure and the imposing of social distancing measures and how it may affect their educational performance and lives on the short and longer term
Identifying the sort of signs that may indicate that students may be facing or be at risk of facing mental health issues and how to deal with them
Explaining the role of different university/ college constituents (i.e. instructors, student support, student mental health units, etc.) in providing support to students during these unprecedented times
Sharing examples of how different institutions have been supporting students' well-being and mental health and coping with stress during the pandemic; taking into consideration different cultural contexts
Providing recommendations on strategies higher education institutions can adopt to promote student mental health and wellbeing both during and post COVID-19

Dr. Narimane Hadj-Hamou
Founder & CEO, Center for Learning Innovations & Customized Knowledge Solutions (CLICKS), UAE
Who should attend?
Registration
Registration in the Panel Discussion is free and open to anyone from the higher education community wherever located. However, there is a maximum capacity to the session and slots will be allocated based on 'first come first served'; hence we recommend early registration. Kindly note that shall you be unable to join the session, an email to inquiries@cli-cks.com should be sent to cancel your registration and enable other colleagues to join.
The Center may reserve the right to limit the number of registrations from the same institution to provide the opportunity to other institutions to join or to prioritize registrations from among the target audience.